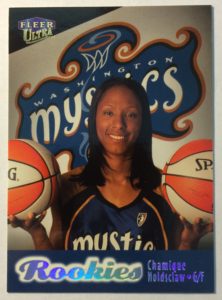 Placing it in Context: The Fleer/Skybox company released two sets of WNBA cards in 1999, this Ultra series as well as a Hoops series.  These WNBA debut sets are important in and of themselves. The Ultra set contains 125 cards (90 base, 10 All-WNBA, 25 rookies)  forming a concise, important set.  The rookie cards were made more desirable by a slightly lower placement (1:2 packs).  The design of the base set is pure class with the same borderless, simple design that had been in use since the 1994-95 Ultra set.  Rookies are distinguished by a border on the bottom that matches the team logo.
The Card:  The #102 Chamique Holdsclaw Rookie is the highlight of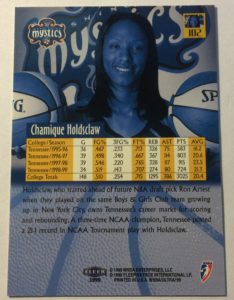 the 1999 Ultra WNBA set.  Not only is the debut set important itself, but this card is the top rookie card of the set.  In the 2001 Standard Catalog of Basketball Cards, the card is valued at $30 with the next closest value being a trio of $10 rookie cards. Although typically not selling that high, the card holds its value today with occasional sales occurring around the $7 mark.  There's record of a PSA 9 selling for $13.15 in September 2016.
In Short: Landmark card within a landmark set.  Yet quite affordable!